Freecolor offers advanced Print program software, depending on your business' needs. Some of the features included in print software include: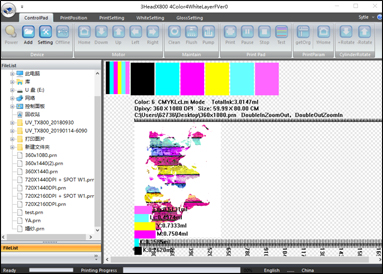 Pre-loaded settings for various substrates
Control over printer functions and channel settings
Adjust ink density, saturation, and color controls
White ink options – more than 26 modes optional
Allows you to add your own ICC color profiles to the RIP
Allows you to create templates for product positioning
Repeat Function allows you to copy artwork for multiple product prints
Control dot size to improve imprints on curved or uneven surfaces
Print settings: Uni-directional or Bi-directional
Resolution settings:
360/720x1080 – photography, fine detail
360/720x1440 – photography, very fine detail, high quality, smooth substrates.
Freecolor also offers customized ICC color profiling to improve the accuracy and consistency of color imprints from one substrate to another.